English version below
For nogle måneder siden lancerede ActionTiles muligheden for iframes i tiles. Det har længe været en efterspurgt feature, for den åbner for mange nye muligheder.
En iframe er en "ramme", der kan indlæse en side fra et eksternt system, så det ser ud som om det eksterne system er en del af ActionTiles.
Jeg har længe søgt efter en måde at inkludere RSS-feeds i ActionTiles, og til slut besluttede jeg mig for at bygge det selv. Det resulterede i en side, der er oplagt at loade i ActionTiles, og en builder der gør det nemt at bygge det rette link til brug i ActionTiles.
Sådan gør du
Besøg builderen, jeg har bygget.
Kopier linket, som builderen giver dig i bunden.
Gå til ActionTiles, klik på My Shortcuts, og lav et nyt Shortcut. Indsæt URL'en, du lige har kopieret, og giv dit Shortcut et pænt navn.
Gå nu til dit Dashboard, og tilføj et nyt tile. Vælg IFrame. Vælg det Shortcut du lige har oprettet.
Færdig!
Så ender du med noget, der kan se sådan ud.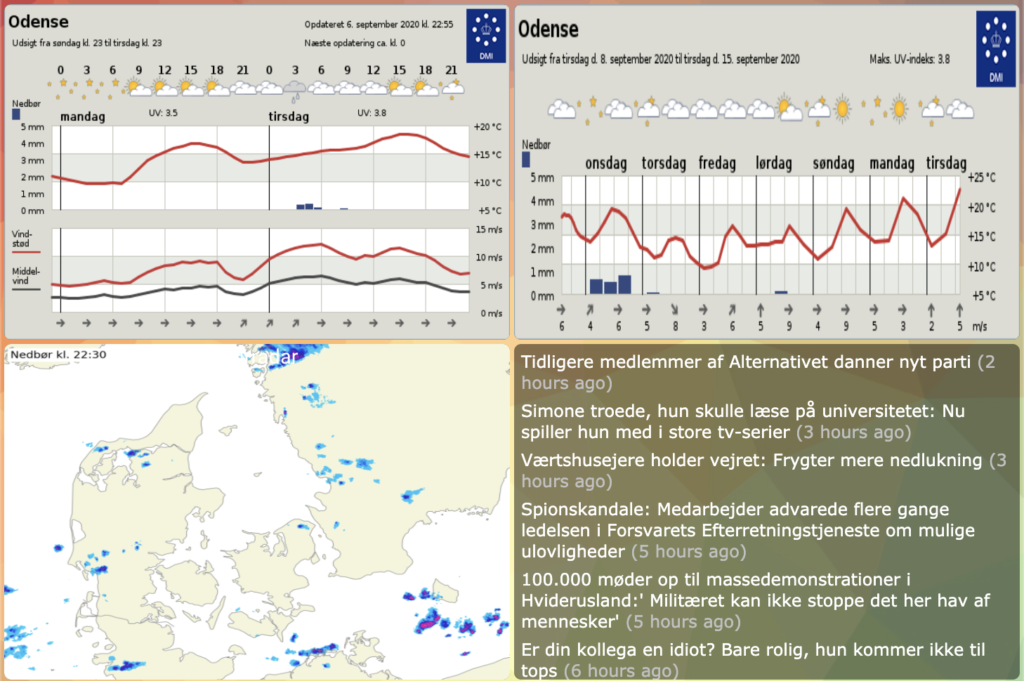 Støder du på fejl, så giv lyd! Jeg har testet så godt jeg kunne, men det er ærligt talt længe siden jeg har bygget ting på denne måde. 🙂
English version
A few months ago ActionTiles launched a new feature making it possible to add iframes in tiles. It has been a long requested feature since it adds lots of new possibilities to the platform.
An iframe is a frame which loads a page from another system while looking like it's a part of ActionTiles.
I've searched for a way to add RSS-feeds to ActionTiles for a while and in the end I decided to build it myself. It resulted in a page which can be loaded into ActionTiles and a builder which makes it easy to build the right link to use in ActionTiles.
How to
Visit the builder I built.
Copy the link that the builder gives you at the end.
Go to ActionTiles, click My Shortcuts and add a Shortcut. Add the URL you just copied and give your Shortcut a name.
Go to your Dashboard and add a new tile. Choose IFrame. Choose the Shortcut you just created.
Done!
You'll end up with something like this.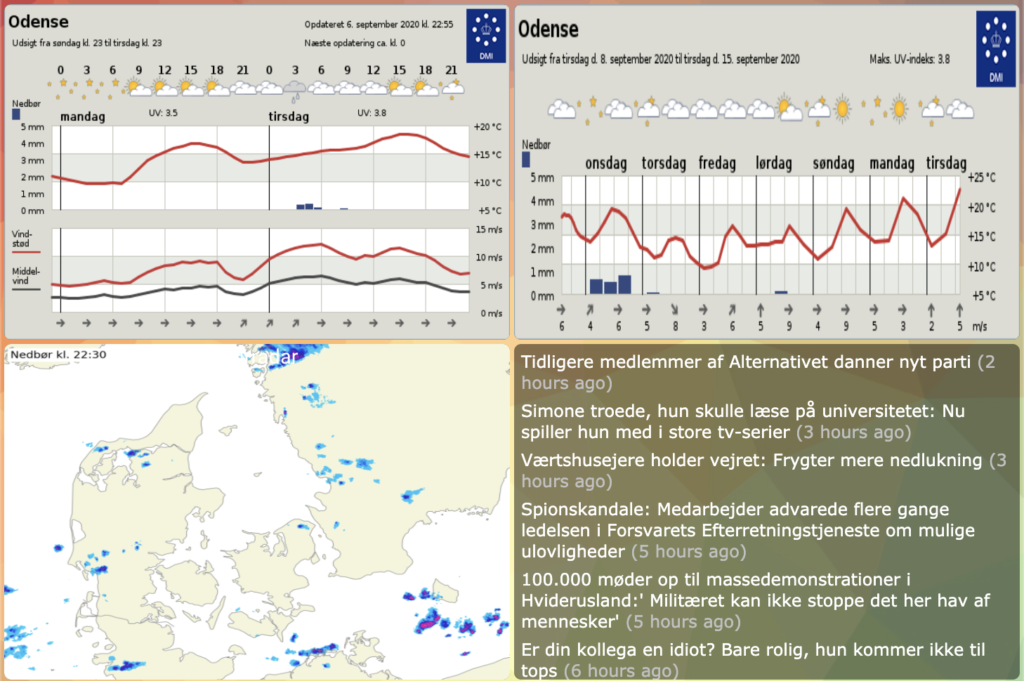 If you run into bugs please let me know. I've tested as well as I could but honestly it's a been a while since I've built something like this. 🙂